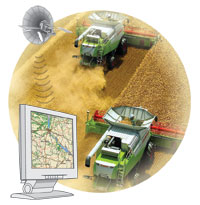 System of Teletrack-AGRO is a specialized solution for the control of transport in agricultural enterprises.
Using this system you can control the following parameters:
location and routes of movement of all the equipment;
fuel consumption in traffic, fuel consumption during stops, fuel consumption during the execution of the work in the fields, the fuel consumption per 1 hectare of treated areas, fuel-ups and drains;
time of entry and exit from the field, downtime and performance of field work;
area treated areas of fields.
Read more...
Gps-tracking system "Teletrack"
GPS tracking system "Teletrack":

track the location of vehicles on an

electronic map

in real time (vehicle monitoring);
Control of fuel consumption(drains, fuel-ups, average consumption)
passanger control in the city public transportation;
monitor the status of sensors (fuel consumption, door openinga, alarm status, electronic locks, etc.);
set control zones on an electronic map and receive messages about vehicles that go beyond their limits;
analyze the routes of vehicles for any period of time;
receive a variety of reports on the actual mileage, fuel consumption etc.
Buying the GPS tracking system - it is not the costs, it is costs savings! What is particularly important during the financial crisis.
Read more...